The music genre thrash metal emerged in the early 1980s through cross-pollination between hardcore punk and the new wave of British heavy metal. The revved-up style of new wave heavy metal known as speed metal was an especially important influence on the genre as it gained early ground in the San Francisco Bay Area of the United States.
Compared to classic heavy metal and glam metal, thrash metal is characterised by more rapid and aggressive playing, and low-register guitar riffs are typically overlaid with shredding leads. The lyrics are often visceral and gory.
thrash metal can be said to have the double bass drumming and complex guitar elements of new wave British heavy metal, and the speed and aggression of hardcore punk.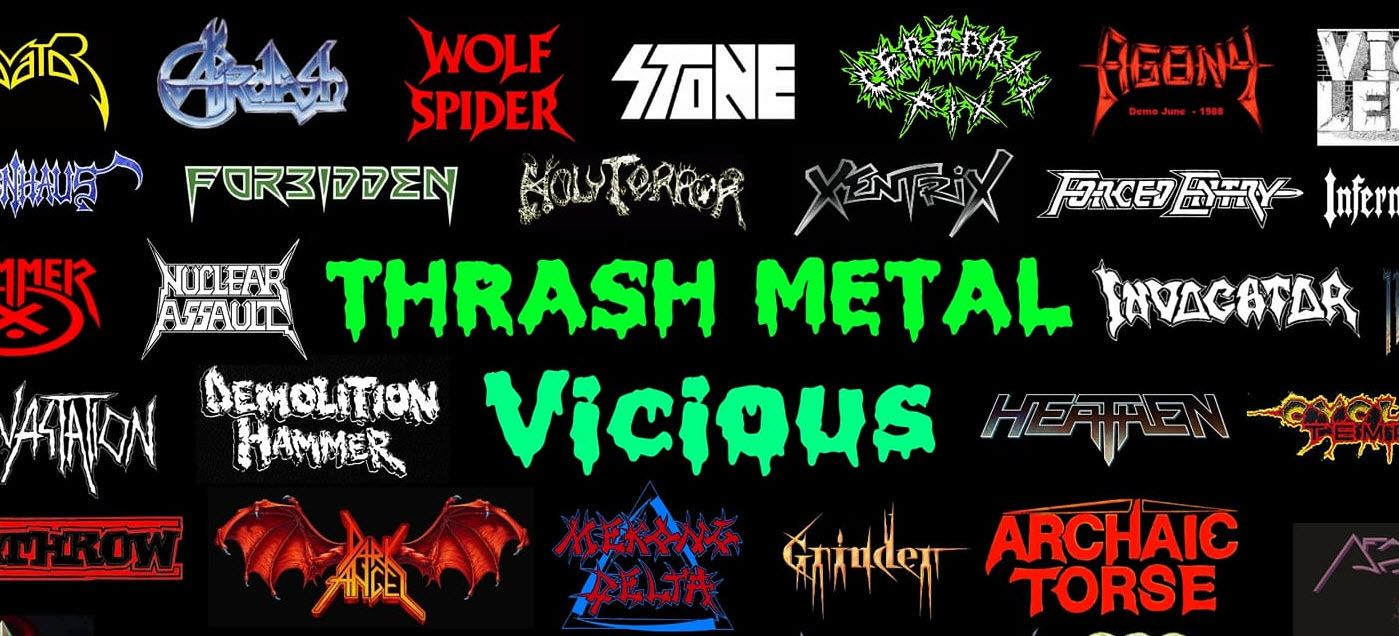 Four bands that have been extremely important for the mainstream appeal of thrash metal in North America are the "Big Four of thrash", i.e. Metallica, Anthrax, Megadeth, and Slayer. In Europe, the Big Four were important, but so were the three German bands Kreator, Sodom, and Destruction.
A few other examples of thrash metal bands that have helped bring thrash metal to a broader audience are Sepultura, Sarcófago, Overkill, and Exodus. Notably, both Sepultura and Sarcófago are from Latin America. In Latin America, thrash metal became very popular through bands such as V8, Bloke, Transmetal, and Massakre.
Origins
Released in 1974, "Stone Cold Crazy" by Queen´s is not considered to be thrash metal but is acknowledged as one of the songs that helped bring thrash metal into existence. Another notable influence for the genre is Black Sabbath's "Symptom of the Universe", released in 1975.
The rapid tempo for which thrash metal is known can be heard in the early releases of artists such as Motörhead, Iron Maiden, Angel Witch, and Tygers of Pan Tang.
Many thrash metal drummers, including Lars Ulrich, credit Phil Taylor´s double-bass drumming in the 1979 Motörhead track "Overkill" as a major inspiration for their thrash metal performances.
The term
One early example of the term "thrash metal" is from February 1984, when Kerrang! journalist Malcolm Dome used it in reference to the Anthrax track "Metal Thrashing Mad".
Metallica
Metallica is one of the Big Four in the world of thrash metal. Formed in Los Angeles in 1981, the group is known for fast tempo tracks with aggressive musicianship.
Metallica´s current lineup is comprised of the founding members James Hetfield (on vocals and guitarr) and Lars Ulrich (on drums), long-time lead guitarist Kirk Hammett, and bassist Robert Trujillo. Earlier, the band included guitarists Dave Mustaine (who went on to form Megadeth), and the bassists Ron McGovney, Cliff Burton, and Jason Newsted.
Metallica´s first commercially successful album was their third, a thrash metal album called Master of Puppets, released in 1986. It was followed by…And Justice for All (1988) which is also considered thrash metal. The 1991 album Metallica marked the start of a period when Metallica experimented with being less thrash metal and more mainstream accessible. Their ninth album Death Magnetic (2008) was a distinct return to thrash metal for the band, and it was followed by the thrash metal double-album Hardwired… to Self-Destruct in 2016.
Megadeth
Megadeth was formed in Los Angeles in 1983 by Dave Mustaine (vocals and guitar) and David Ellefson (bass), and various other musicians have been a part of the band over the years. The current lineup is Mustaine, Kiko Loureiro (guitars, backing vocals, acoustic guitar, piano), and Dirk Verbeuren (drums).
Prior to co-forming Megadeth, Mustaine had been in Metallica, and with Megadeth he continued with the thrash metal style of Metallica but with a much stronger emphasis on speed and intensity.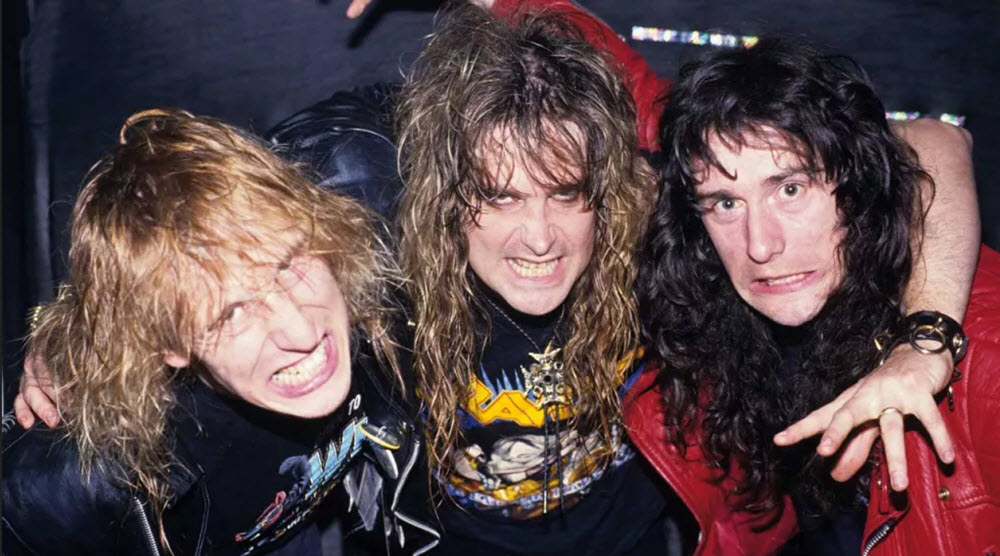 The band Megadeth is renowned for technically complex guitar work, complex arrangements and fast rhythm sections. A lot of their music includes harsh and snarling vocals, double bass drum patterns, power chords, staccato riffling, tremolo picking, and screeching lead guitar work. Lyrically, their songs often take on issues such as religion, death, war, politics, and personal relationships.
Megadeth has had an enormous influence on the popularization and development of the genre thrash metal. According to music writer Joel McIver, the 1985 Megadeth album Killing Is My Business… and Business Is Good! raised the bar for the whole thrash metal scene.
In 1990, Megadeth embarked on the hugely successful thrash metal tour Clash of the Titans in Europe alongside Slayer, Testament, and Suicidal Tendencies. During the 1991 North American leg of the tour, they were joined by Anthrax and Alice in Chains.