Sepultura is a Brazilian metal band formed in Minas Gerais in 1981, by the brothers Max and Igor Cavalera. They are one of the second-wave thrash metal bands that grew to prominence in the late 1980s.
In the 1980s and early 1990s, Sepultura was a driving force and major source of inspiration for several genres of metal, including trash metal, groove metal and death metal, and they are frequently cited as one of the main inventors of the genre death metal. Later on, Sepultura changed their sound somewhat as they began incorporating elements from world music, hardcore punk, industrial metal, alternative metal, and nu metal. Drawing from their native Brazil, some tracks from Selpultura show clear inspiration from samba, Brazilian folk music, and certain other Latin American genres. This is especially noticable on the album Roots (1996), which was partly recorded in collaboration with the indigenous Xavante tribe in Mato Grosso.
As of 2022, Sepultura has released 15 studio albums, with the most recent one being Quadra (2020). Their commercially most successful albums were Beneath the Remains (1989), Arise (1991), Chaos A.D. (1993), and Roots (1996). All in all, Sepultura has sold nearly 20 million units worldwide, earning gold and platinum records in countries such as Brazil, the United States, Australia, Indonesia, and France.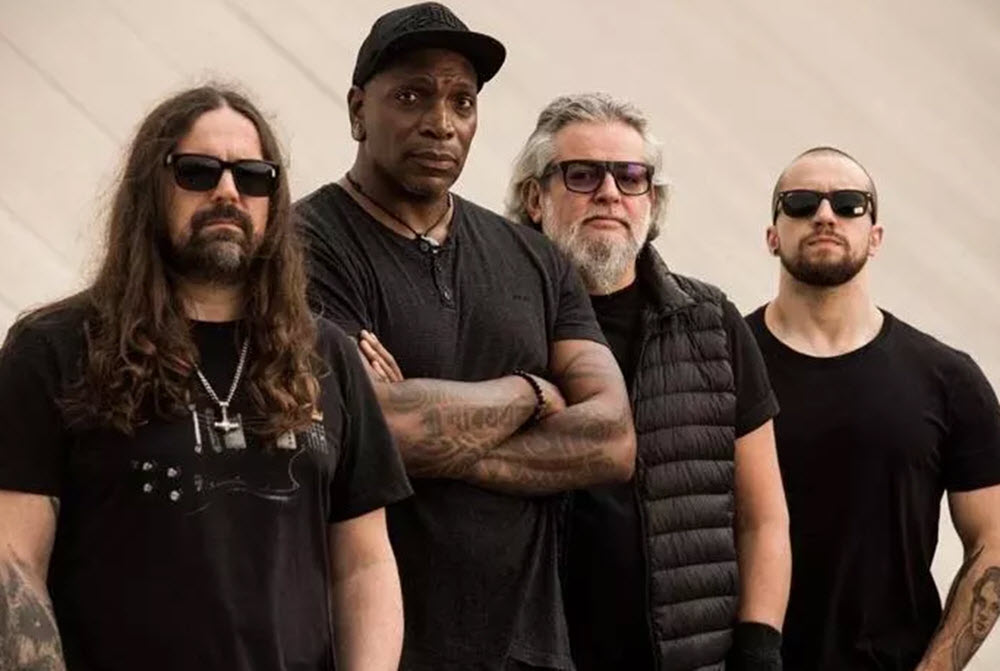 Short facts about Sepultura
Formation: Belo Horizonte, Minas Gerais, Brazil, in 1984
Genres: Black metal (early), heavy metal, thrash metal, groove metal, death metal, alternative metal
Years active: 1984 – present
Labels: Cogumelo, New Renaissance, Roadrunner, Epic, SPV, Nuclear Blast
Studio albums
Morbid Visions (1986)
Schizophrenia (1987)
Beneath the Remains (1989)
Arise (1991)
Chaos A.D. (1993)
Roots (1996)
Against (1998)
Nation (2001)
Roorback (2003)
Dante XXI (2006)
A-Lex (2009)
Kairos (2011)
The Mediator Between Head and Hands Must Be the Heart (2013)
Machine Messiah (2017)
Quadra (2020)
Members
Since Igor Cavalera left the band in 2006, none of the original members remain in Sepultura.
Current members
Paulo Jr. – bass, backing vocals (1984–present)
Andreas Kisser – lead guitar, backing vocals (1987–present), lead vocals (1996–1998)
Derrick Green – lead vocals (1998–present), additional rhythm guitar (1998–2005)
Eloy Casagrande – drums, percussion (2011–present)
Former members
Cássio (1984)
Roberto UFO (1984)
Roberto "Gato" Raffan (1984)
Beto Pinga (1984)
Wagner Lamounier (1984–1985)
Max Cavalera (1984–1985)
Igor Cavalera (1984–2006)
Julio Cesar Vieira Franco (1985)
Jairo Guedz (1985–1987)
Max Cavalera (1985–1996)
Jean Dolabella (2006–2011)
Former touring musicians
Silvio Golfetti – lead guitar (1991)
Guilherme Martin – drums (2005)
Roy Mayorga – drums (2006)
Amilcar Christófaro – drums (2011)
Kevin Foley – drums (2013)
Bruno Valverde – drums (2022)
Sepultura in recent years
Kairos
In 2010, Sepultura signed with Nuclear Blast Records, and also announced that there would be no reunion of the classic lineup. Recording of a new album (studio album #12) commenced before the end was over, with Roy Z producing. The album Kairos came out in June 2011, and was followed by the Kairos World Tour.
Relentless
In December 2014, the book Relentless by Jason Korolenko was published via Rocket 88. It is a biography covering the band Sepultura´s 30-year-long history.
The Polish-language version of the book, Brazylijska Furia, had been published in October 2014. A Portuguese-language version, Relentless – 30 Anos de Sepultura, followed in early 2015, and a French-language version in October 2015.
The Mediator Between Head and Hands Must Be the Heart
Sepultura´s thirteenth studio album, The Mediator Between Head and Hands Must Be the Heart, was released in September 2013 and the band spent over two years touring to support it.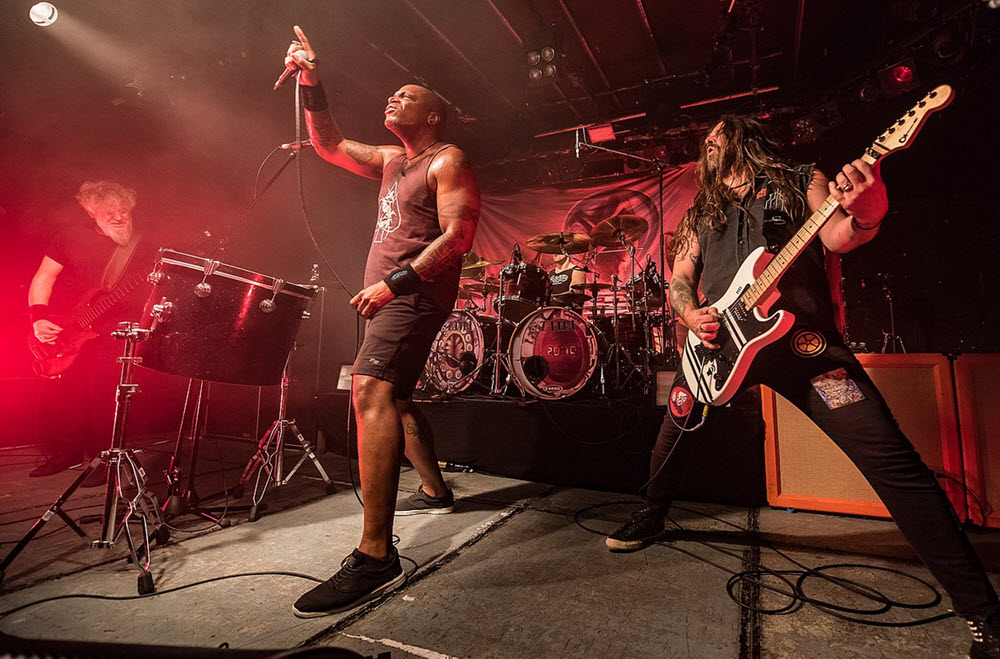 Machine Messiah
The studio album Machine Messiah came out in early 2017 and was followed by a series of international touring. Among other things, Sepultura supported Kreator on their Gods of Violence tour in Europe, and Testament on their Brotherhood of the Snake tour in the United States. In February and March 2018, Sepultura toured Europe together with Obscura, Goatwhore, and Fit for an Autopsy.
Sepultura Endurance
Sepultura Endurance, the first official Sepultura documentary, premièred in May 2017. Both Max and Igor Cavalera declined to be interviewed for the film, and they also prevented early material from being included in the production.
Quadra & Isolation
In October 2019, the band announced that their next studio album would be called Quadra, and that the opening track and lead single was to be named Isolation. The studio version was released in November.
When Quadra was released in February 2020, the Covid19 pandemic prevented Sepultura from going on tour to promote the album. Their first show post-Covid19 took place in Rio de Janeiro in February 2022. It was followed by tours in the U.S. and Europe.
Quarantine collaboration
In August 2021, Sepultura released the quarantine collaboration "SepulQuarta", which includes contributions from members of Anthrax, Megadeth, System of a Down, Testament, Sacred Reich, and Trivium.