The heavy metal band HammerFall was formed in Gothenburg, Sweden in 1993 by guitarist Oscar Dronjak, who previously was a member of the death metal band Ceremonial Oath.
Short facts about HammerFall
Formation: Gothenburg, Sweden in 1993
Years active: 1993 – present
Genres: Heavy metal, power metal
Labels: Napalm, Nuclear Blast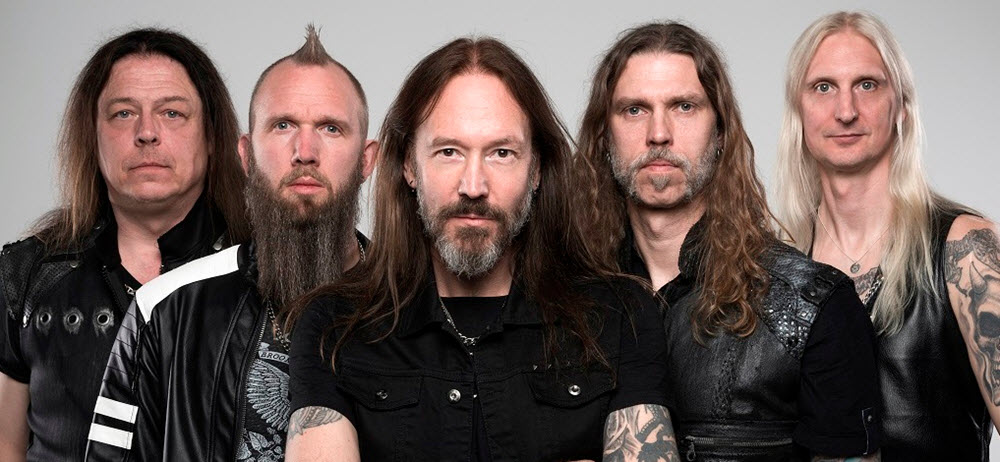 Members
Current members
Oscar Dronjak
Joacim Cans
Fredrik Larsson
Pontus Norgren
David Wallin
Previous members
Jesper Strömblad
Mikael Stanne
Niklas Sundin
Johan Larsson
Glenn Ljungström
Stefan Elmgren
Magnus Rosén
Anders Johansson
Patrik Räfling
Johan Koleberg
Studio albums
Glory to the Brave (1997)
Legacy of Kings (1998)
Renegade (2000)
Crimson Thunder (2002)
Chapter V: Unbent, Unbowed, Unbroken (2005)
Threshold (2006)
No Sacrifice, No Victory (2009)
Infected (2011)
(r)Evolution (2014)
Built to Last (2016)
Dominion (2019)
Hammer of Dawn (2022)
Legenden om HammerFall (The Legend of HammerFall)
In 2013, Oscar Dronjac wrote and published the book "Legenden om HammerFall" about the history of the band. It is only available in Swedish.
Paladin Hector
The band has a mascot; the paladin Hector.
Early days of HammerFall (1993-1996)
In 1993, rhythm guitarist Oscar Dronjak left the death metal band Ceremonial Oath and invited Jesper Strömblad (from Ceremonial Oath and In Flames) to be the drummer in a new band. For this new band, Dronjak had already composed the song "Steel Meets Steel".
Dronjak and Strömblad were joined by lead guitarist Niklas Sundin, bassist Johan Larsson, and vocalist Mikael Stanne. The following year, Sundin and Larson left, and were replaced by the guitarist Glenn Ljungström (from In Flames) and bassist Fredrik Larsson (from Dispatched).
At the time, Dronjak and Larsson also played in the band Crystal Age, Stanne was the singer in Dark Tranquility, and Strömblad and Ljungström kept playing with In Flames. These various bands and their sounds would have an influence on the music created for HammerFall.
For several years, HammerFall was a side project rather than a main focus for the band members. The band had only a few original songs, and would pad their sparse performances with covers of bands such as Alice Cooper, Judas Priest, and Pretty Maids.
In 1996, the singer Joacim Cans joined HammerFall.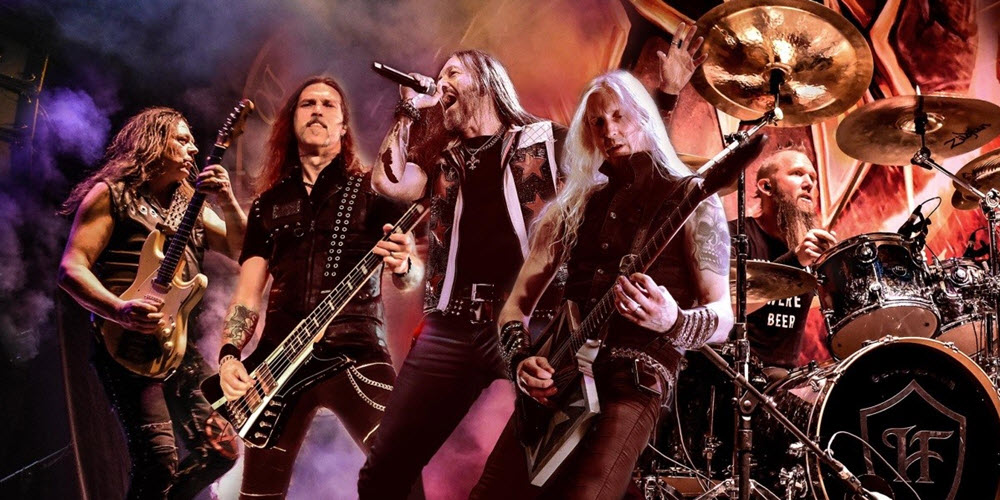 Breakthrough of HammerFall: Glory to the Brave
HammerFalls´s first album Glory to the Brave was released in the Netherlands in 1997 and received positive reviews. (And it has aged well. In 2020, Metal Hammer magazine named it as one of the 20 best metal albums of 1997.)
As HammerFall grew in popularity, it needed more time and dedication from the band members. Dronjak and Cans decided to focus on HammerFall, while Strömblad and Ljungström kept their commitment to In Flames, and Larsson to the thrash metal band None. Therefore, Stefan Elmgren joined the band on lead guitar, Patrik Räfling on drums, Magnus Rosén on bass.
Both Elmgren and Räfling appear on Glory to the Brave, and Räfling actually plays the drums on all the tracks even though Strömblad is listed as the drummer.
HammerFall signed a four-album deal with the German label Nuclear Blast, and this kick-started their European breakthrough.
The band recorded their first two music videos; for HammerFall and Glory to the Brave.
After the released of a promotional single, the album Glory to the Brave was launched throughout Europe. The reception in Europe was unexpectedly strong, and the album reached spot 38 on the German Music Chart on the week of its release, thereby breaking the old record for a début heavy metal album.
HammerFall now went on several tours throughout Europe, alongside the bands Gamma Ray, Jag Panzer, Rave, and Lake of Tears. At the heavy metal music festival Wacken Open Air in Germany, HammerFall performed for a crowd of 10,000+ people.
Before 1997 was over, the album Glory to the Brave had been released in Japan and the United States, and the total sales figure for the album (on all markets combined) had reached 100,000 copies.
Recording of their second album, Legacy of Kings, began in February 1998.
In October 1998, HammerFall embarked on their first world tour.