Judas Priest is a heavy metal band formed in Birmingham in 1969. They are still active today and have been a huge influence on the heavy metal genre and several of the sub-genres. Several metal bands are even named after Judas Priest albums and songs, such as Running Wild, Tyrant, Sinner, Exciter, Range, and Steeler. MTV ranked them as the second Greatest Metal Band of all time, outranked only by Black Sabbath. As of 2022, Judas Priest has sold 50+ million copies of their albums.
Examples of elements from Judas Priest that have inspired many other metal bands are the twin guitar sound of Glenn Tipton and K.K. Downing, and the operatic broad-range vocal style of lead singer Rob Halford – a singer renowned for his ability to handle anything from throaty growls to ear-piercingly high screams.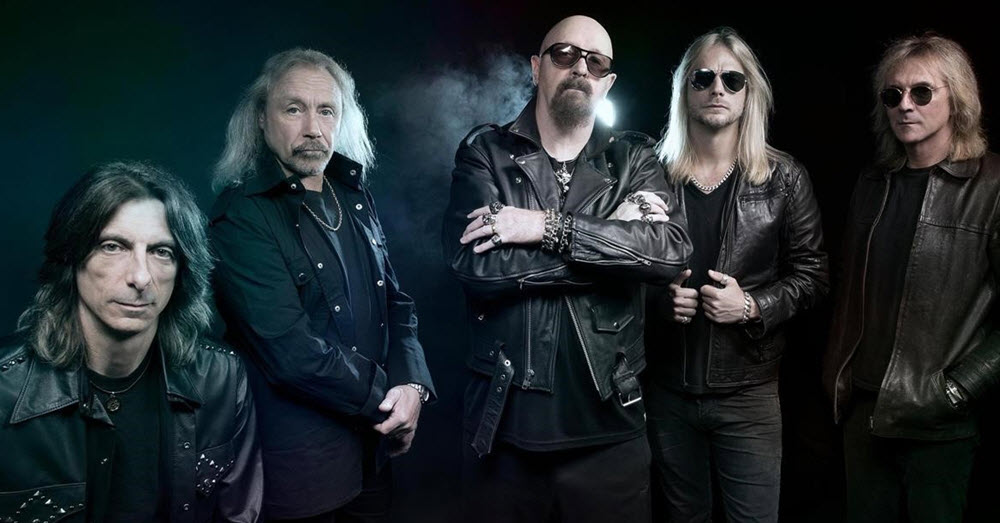 Short facts about Judas Priest
Origin: Birmingham, England in 1969
Genre: Heavy metal
Years active: 1969 – present
Labels: Sony, Epic, Columbia/CBS, SPV, CMC, Atlantic, Gull
Associated acts: Fight, KK´s Priest, Halford
Members
Current members
Rob Halford (on hiatus from the band in 1992-2003) – vocals
Glenn Tipton – guitar
Richie Faulkner – guitar
Ian Hill – bass
Scott Travis – drummer
Tipton and Hill are the only two members of the band that have appeared on every album.
Previous members
Al Atkins
K. K. Downing
Alan Moore
Simon Phillips
John Hinch
Les Binks
Dave Holland
Tim "Ripper" Owens
Studio albums
Rocka Rolla (1974)
Sad Wings of Destiny (1976)
Sin After Sin (1977)
Stained Class (1978)
Killing Machine (1978)
British Steel (1980)
Point of Entry (1981)
Screaming for Vengeance (1982)
Defenders of the Faith (1984)
Turbo (1986)
Ram It Down (1988)
Painkiller (1990)
Jugulator (1997)
Demolition (2001)
Angel of Retribution (2005)
Nostradamus (2008)
Redeemer of Souls (2014)
Firepower (2018)
Musical style
Judas Priest has experimented with many different elements and aspects of heavy metal on their albums. There first album Rocka Rolla (1974) is strongly influenced by heavy blues rock, while the following three albums are more along the lines of progressive rock.
The 1977 album Sin After Sin used a combination of double bass drum, rapid 16th-note bass rhythms and rapid 16th-note guitar rhythms – elements that would later be used by notable heavy metal acts such as Venom, Black Sabbath and Motörhead.
With their fifth album Killing Machine (1978), Judas Priest embarked on a more radio-friendly style. British Steel (1980) followed this new approach, and the band also included much less of the dark lyrical themes which had featured prominently on their previous albums. Since digital sampling wasn´t widely available yet, Judas Priest used analogue recordings of milk bottles being smashed for the track Breaking the Law. British Steel is today widely acknowledged as one of the records that codified what we mean when we talk about classic heavy metal.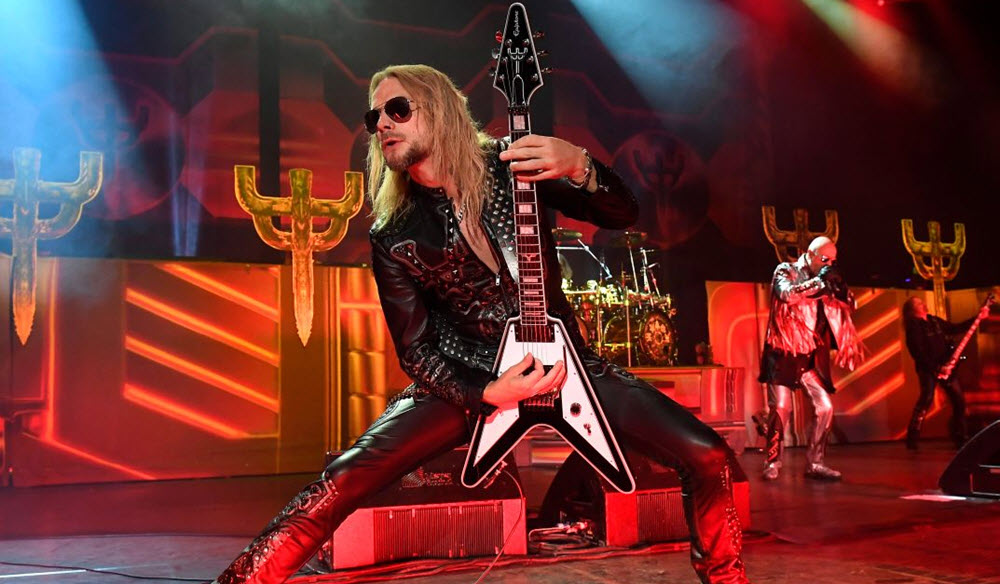 The style of Killling Machine and British Steel continued on Point of Entry, which was released in 1981. The following year, the album Screaming for Vengeance retained some of the radio-friendliness but also incorporated more of the old-school Judas Priest sound. This blend was also noticeable on Defenders of the Faith (1984).
For the 1986 album Turbo, Judas Priest merged the heavy metal sound with guitar synthesizers, and in 1988, the album Ram It Down included some of the rapid tempo aspects from the early days of Judas Priest. Rapid-tempo songs were also a big part of Painkiller (1990), while Jugulator (1997) is known for its experiments with groove metal styles.
Demolition (2001) was in some ways more traditional heavy metal, but did include significant elements of nu metal. For Angel of Retribution (2005) and Nostradamus (2008), Judas Priest once again returned to their early albums for inspiration.
While Nostradamus largely received lacklustre reviews, Redeemer of Souls (2014) was praised as the "antithesis of Nostradamus". Firepower (2018) also got generally favourable reviews, with William Nesbitt of PopMatters noting that "Firepower welcomes fans of previous Priest records, but it also sounds modern. That's not surprising given that the band used two producers for the album."