Black Sabbath, a band hailing from Birmingham, England, is hailed as one of the seminal forces in the development of heavy metal. This article explores the history, legacy, and cultural impact of Black Sabbath, whose brooding and dark sound laid the groundwork for an entirely new genre of music.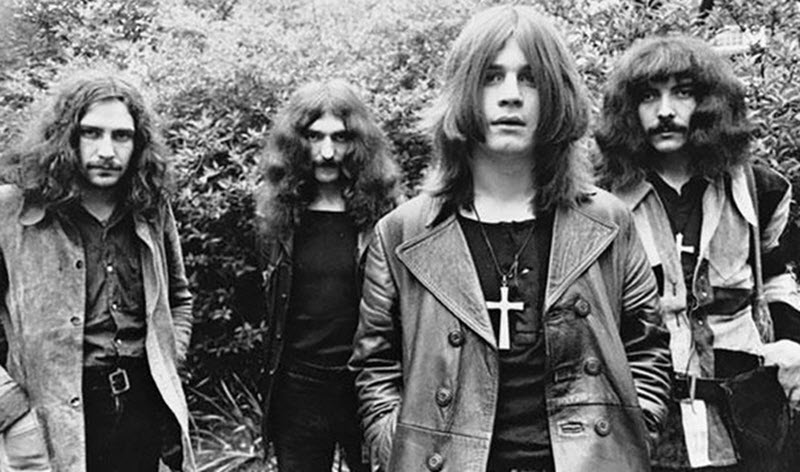 Formation and Early Days
Birth of the Band
Black Sabbath was formed in 1968 by guitarist Tony Iommi, bassist Geezer Butler, drummer Bill Ward, and vocalist Ozzy Osbourne. Initially named "Polka Tulk Blues Band" and soon after renamed to "Earth," they eventually chose "Black Sabbath" after a song written by Butler. The name was inspired by a 1963 horror film reflecting the band's inclination towards dark and ominous themes.
Breakthrough with a Unique Sound
Their self-titled debut album, "Black Sabbath," was released in 1970 and is widely regarded as the first heavy metal album. With its distinctive downtuned guitar riffs, ominous atmosphere, and Ozzy Osbourne's haunting vocals, Black Sabbath introduced a sound that contrasted sharply with the popular music of the time.
Rise to Stardom
 Prolific Early 1970s
Black Sabbath was prolific in the early 1970s, releasing classic albums like "Paranoid" (1970), "Master of Reality" (1971), and "Vol. 4" (1972). Songs such as "Iron Man," "War Pigs," and "Paranoid" became anthems for a generation and defined the heavy metal genre. The band's music often touched on themes of war, social unrest, and the occult.
Lineup Changes and Evolution
Throughout the mid-1970s and 1980s, Black Sabbath underwent several lineup changes. Ozzy Osbourne departed in 1979 due to substance abuse issues and was replaced by Ronnie James Dio. The Dio-era of Black Sabbath produced albums like "Heaven and Hell" (1980) and "Mob Rules" (1981), which were well-received and showed a more melodic side of the band.
Legacy and Influence
 Pioneers of Heavy Metal
Black Sabbath's impact on music cannot be understated. They are considered pioneers of heavy metal, and their early work remains a blueprint for metal bands. The dark themes and heavy riffs that characterized their music became a staple in heavy metal. Tony Iommi is particularly revered for his innovative guitar techniques and is often referred to as the "Father of Heavy Metal".
Awards and Accolades
The band has received numerous awards and accolades. In 1999, Black Sabbath was awarded a Grammy for Best Metal Performance for "Iron Man." They have also been inducted into the UK Music Hall of Fame (2005) and the Rock and Roll Hall of Fame (2006). example of awards include
Rock and Roll Hall of Fame: Black Sabbath was inducted into the Rock and Roll Hall of Fame in 2006. This is one of the highest honors a rock band can receive and it recognizes their influence and contribution to the rock music genre.
Grammy Awards: Black Sabbath won two Grammy Awards. In 2000, they won the Grammy Award for Best Metal Performance for the live version of "Iron Man" from the album 'Reunion'. In 2014, they won another Grammy for Best Metal Performance for the song "God Is Dead?" from their album '13'.
UK Music Hall of Fame: Black Sabbath was inducted into the UK Music Hall of Fame in 2005.
Ivor Novello Awards: Black Sabbath received the Ivor Novello Award for Lifetime Achievement from the British Academy of Songwriters, Composers, and Authors in 2015.
Revolver Golden Gods Awards: In 2013, Black Sabbath received the Album of the Year award for their album '13' at the Revolver Golden Gods Awards.
Kerrang! Awards: Tony Iommi of Black Sabbath was awarded the Kerrang! Legend Award in 2015.
Classic Rock Roll of Honour Awards: Black Sabbath received the Living Legend award in 2008 and the Album Of The Year award in 2013 for '13'.
VH1 Rock Honors: In 2007, Black Sabbath was honored by VH1 for their significant contribution to rock music.
Metal Hammer Golden Gods Awards: In 2013, Black Sabbath received the Golden Gods award from Metal Hammer magazine.
Later Years and Reunions
Ozzy's Return and The End Tour
Osbourne rejoined Black Sabbath in the late 1990s, and the original lineup released the live album "Reunion." After several more lineup changes and albums, the original members (sans Bill Ward) reconvened for "13" in 2013, their first studio album with Osbourne in 35 years. In 2017, Black Sabbath concluded their final tour, fittingly titled "The End," and officially disbanded.
Albums
Black Sabbath (1970)
Paranoid (1970)
Master of Reality (1971)
Vol. 4 (1972)
Sabbath Bloody Sabbath (1973)
Sabotage (1975)
Technical Ecstasy (1976)
Never Say Die! (1978)
Heaven and Hell (1980)
Mob Rules (1981)
Born Again (1983)
Seventh Star (1986)
The Eternal Idol (1987)
Headless Cross (1989)
Tyr (1990)
Dehumanizer (1992)
Cross Purposes (1994)
Forbidden (1995)
13 (2013)
In addition to these studio albums, Black Sabbath has also released several live albums and compilations. It's important to note that not all of these albums feature the original lineup, as the band underwent several lineup changes over the years.