Slayer was a United States trash metal band active from 1981 to 2019. Formed in Huntington Park, California, Slayer is considered one of the "Big Four of Heavy Metal", alongside Metallica, Megadeth, and Anthrax. The group disbanded in late 2019, after completing the farewell tour upon which they embarked in May 2018.
Slayer released 12 studio albums, three live albums, a box set, two extended plays, and a cover album. Four of the studio albums sold gold in the United States, and two tracks on the 2006 album Christ Illusion went on to win a Grammy: Eyes of the Insane and Final Six.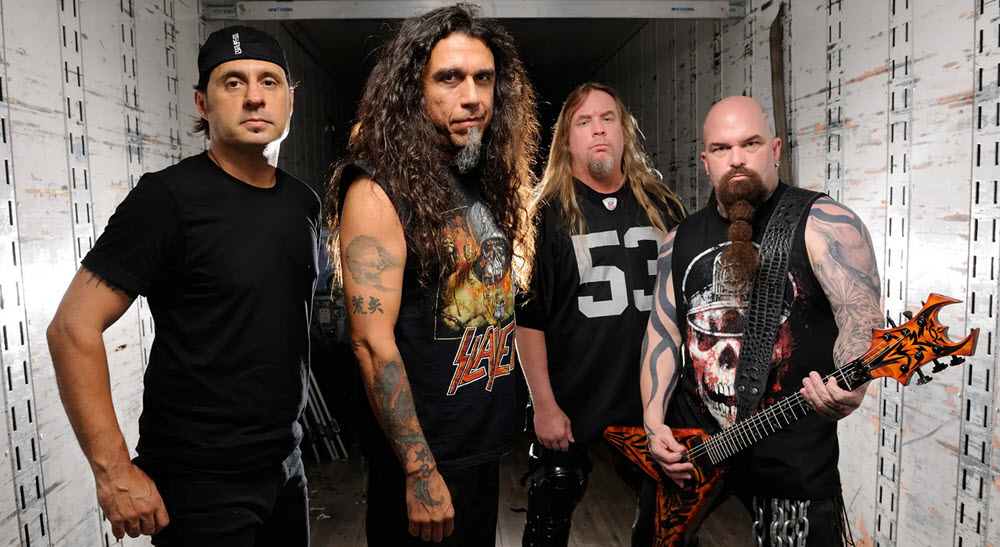 Slayer are known for their fast and aggressive musical style, with downtuned rhythm, and they have been a great inspiration for the trash metal genre, regarding both music, lyrics, artwork (very grisly), and stage appearance. Their third album, the 1986 Reign in Blood, is widely regarded as especially impactful, and many professional musicians – both within and outside trash metal and death metal – have cited it as a strong influence for their own work.
"Before Slayer, metal had never had such razor-sharp articulation, tightness, and balance between sound and stops. This all-out sonic assault was about the shock, the screams, the drums, and […] most importantly the riffs." – Alex Skolnick of Testament
Over the years, the band had been embroiled in numerous controversies over their music, as both their lyrics and their album art have covered sensitive topics such as war, torture, murder, genocide, serial killers, hate crimes, terrorism, religion/mythology (including occultism and Satanism), religious critique, secret societies, political leanings (including fascism and Nazism), racism, and xenophobia. Their albums have been banned, delayed and protested against.
Members
Slayer was formed by guitarists Kerry King and Jeff Hanneman, bassist and vocalist Tom Araya, and drummer Dave Lombardo. Slayer´s final lineup in 2019 was King, Araya, guitarist Gary Holt, and drummer Paul Bostaph.
Past members
Kerry King
Jeff Hanneman
Tom Araya
Dave Lombardo
Paul Bostaph
Jon Dette
Gary Holt
Short facts about Slayer
Formation: Huntington Park, California, USA, in 1981
Years active: 1981-2019
Genre: Trash metal, speed metal
Labels: Metal Blade, Def Jam, American, Nuclear Blast
Musical style
"Over a jackhammer beat, Slayer's stun guitars created scraping sheets of corrosive metal noise, with occasional solos that sounded like squealing brakes, over which the singer-bassist emitted a larynx-lacerating growl-yowl." Joe Brown of the Washington Post described Slayer´s music in 1986 article
Slayer´s early work have often been praised for its fast face and the band member´s instrumental prowess. Many of the tracks combine metal with a hardcore punk tempo. The most fast-paced of their albums is Reign in Blood, where the tracks are at an average of 220 beats per minute.
In the original lineup, all of the band´s music was written by King and Hanneman, with some additional arrangement from Lombardo, and sometimes also by Araya. Both King, Hanneman and Araya contributed to the lyrics. "It's all just whoever comes up with what. Sometimes I'll be more on a roll and I'll have more stuff, same with Kerry – it's whoever's hot, really. Anybody can write anything; if it's good, we use it; if not, we don't", Hanneman explained in an interview regarding the lyrics of their songs.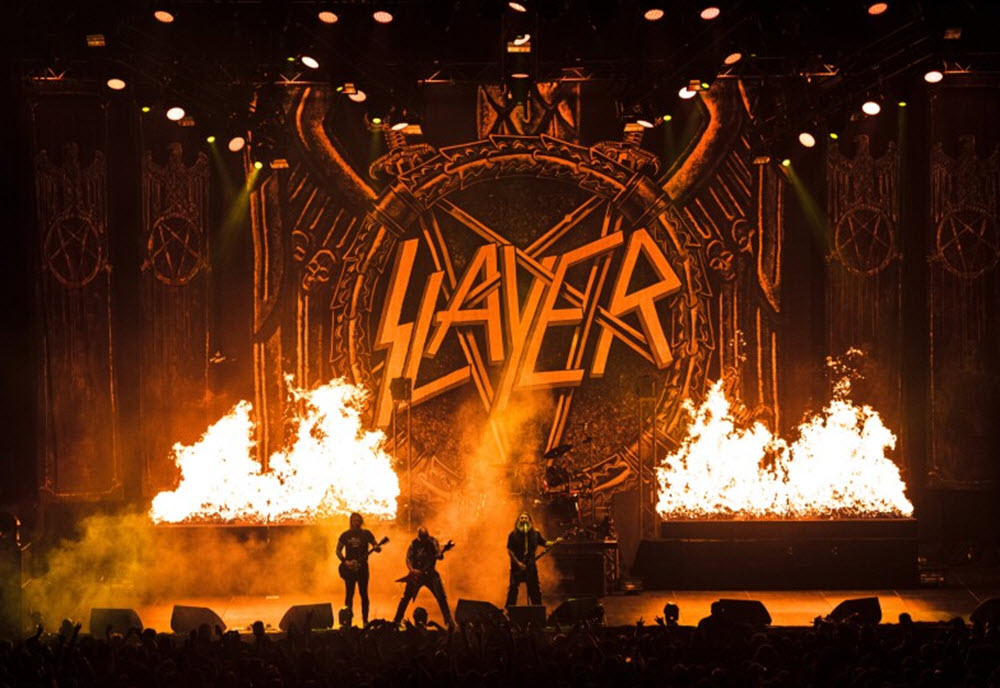 When writing new material, the band would create the music first, before adding lyrics.
A notable aspect of Slayer´s music is the dual guitar solos performed by King and Hanneman, which have been described as both chaotic and a display of twisted genius.
Lombardos speed and aggression behind the drums earned him the moniker "Godfather of Double Bass". He used two bass drums (instead of a single bass drum with a double pedal), and employed the heel-up technique. In interviews, he has explained that he used two bass drums to avoid the "slapback". "When you hit the bass drum, the head is still resonating. When you hit it in the same place right after that, you kinda get a 'slapback' from the bass drum head hitting the other pedal. You're not letting them breathe."
Trivia
The album Diabolus in Musica was Slayer´s first album to feature C♯ tuning.
The album God Hates Us All was Slayer´s first album to feature drop B tuning and seven-string guitars tuned to B♭.