The band Girlschool was formed in 1978 as a part of the new wave of British heavy metal and is still active today. The band achieved both fame and commercial success in Great Britain in the early 1980s, and their stage performances often made it into weekly magazines such as Sounds and Kerrang!. In 1980, they were voted second-best newcomer in Sounds.
Girlschool has had a big impact, especially on the British hard rock and heavy metal scene, with their music being described as "punk-metal mix tough, but poppy enough for radio".
Today, Girlschool have a devoted cult following both in the UK and abroad.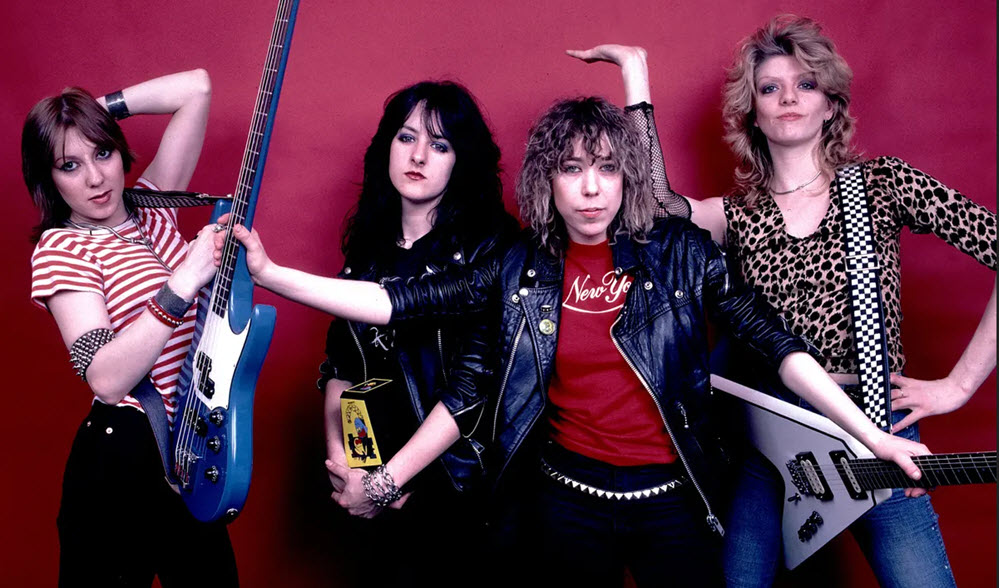 Short facts
Formation: London, England in 1978
Years active: 1978 – present
Genres: Heavy metal, glam metal, hard rock, rock, biker metal
Labels: City, Bronze, Mercury, GWR, Communiqué, Wacken, Cleopatra, Silver Lining Music
Band members
Girlschool has its roots in the cover band Painted Lady, which was formed by Kim MacAuliffe and Enid Williams. By 1978, they decided to become more serious about their own music. They changed the name of the band to Girlschool and recruited drummer Denise Dufort and guitarist Kelly Johnson.
Despite frequent changes of line-up, all original members who are still alive—Kim McAuliffe, Enid Williams and Denise Dufort—remained in the band until 2019, when Willams left.
Kelly Johnson, the original lead guitarist and singer, died of cancer in 2007. Her bandmates paid tribute to her by shaking her ashes, maracas-style, on the track Everything's The Same, which was included in their 2008 Legacy album. In an interview, MacAuliffe explained: "She wanted to make a guest appearance. She made a ghost appearance instead."
Current members
Kim McAuliffe
Denise Dufort
Tracey Lamb
Jackie Chambers
Past members
Kelly Johnson
Gil Weston
Cris Bonacci
Jackie Bodimead
Jackie Carrera
Enid Williams
Early days
In April 1978, Girlschool made their début at the White Lion pub in Putney, West London. They made a big impact on the London pub circuit, and were eventually offered a support slot on Motörhead´s 1979 tour Overkill.
Girlschool recorded their first album Demolition in 1980, with Vic Maile as the producer. McAuliffe, Williams and Johnson can all be heard singing on the album, which is renowned for its overwhelming energy. Later that year, they recorded a cover of the classic "Please Don´t Touch" together with Motörhead. The single reached #5 in the UK singles chart and earned both groups an invite to the influential British TV-show Top Of The Pops.
Girlschool released their second album, Hit And Run, in 1981. In 1982, they played in the United States for the first time, opening for Scorpions and Iron Maiden on a highly successful heavy metal tour.
Musical style
Examples of artists that have inspired the Girlschool members are Black Sabbath, Led Zeppelin, Suzi Quatro, David Bowie, and T. Rex. Also, punk rock had a big impact on the new wave of British heavy metal that developed in the late 1970s, and Denise Dufort played in a punk band before joining Girlschool. In a 1980 interview in Sounds, McAuliffe explained that "We're both too heavy to be New Wave and too punk to be a heavy metal band".
Released in 1980 and 1981, Girlschool´s first two albums (which were also their most successful and influential ones) contains a trailblazing combination of metal and punk. Their third album, Screaming Blue Murder (1982), departs from this and is evidence of the band being encouraged by their label to appeal to a more mainstream audience – especially the mainstream U.S. one.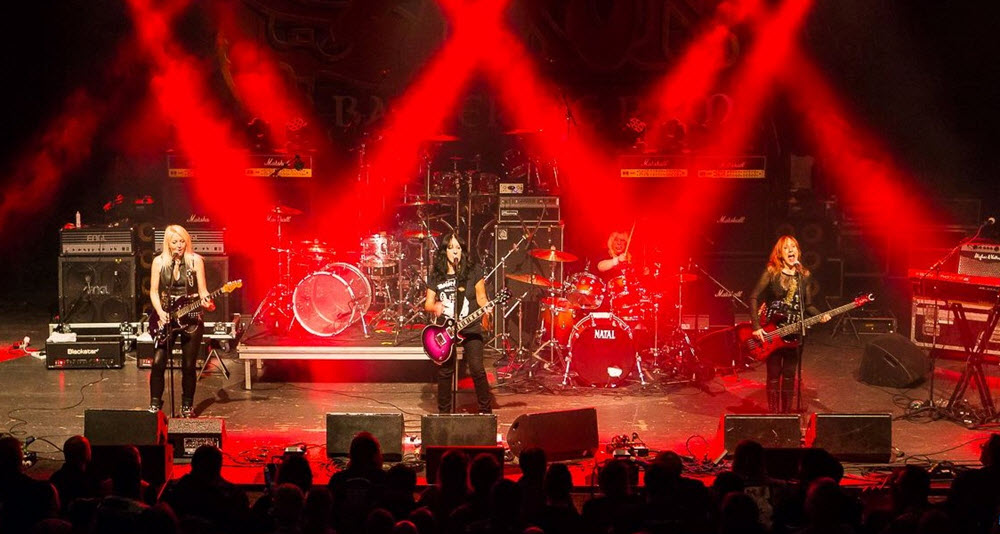 The Girlschool sound becomes even more polished on Play Dirty (1983), partly due to the introduction of keyboards. Without the raw edge of their first two albums, Play Dirty is more correctly classified as glam metal than classic heavy metal.
When Running Wild (1985), which was even tamer, failed to bring the band any major success on the United States glam metal market, the Girlschool members decided to go back to their original sound – a decision which they have held on to ever since.
Girlschool tracks typically have short and direct texts, with common themes being sex, love and rock ´n roll – often with a healthy dose of a tongue-in-cheek sense of humour that is dearly missing from many other heavy metal acts. On some tracks, Girlschool have dove into more serious themes, dealing with issues such as murder, addiction, abuse of women, and the destruction of the environment.
Studio albums
Demolition (1980)
Hit and Run (1981)
Screaming Blue Murder (1982)
Play Dirty (1983)
Running Wild (1985)
Nightmare at Maple Cross (1986)
Take a Bite (1988)
Girlschool (1992)
21st Anniversary: Not That Innocent (2002)
Believe (2004)
Legacy (2008)
Hit and Run – Revisited (2011)
Guilty as Sin (2015)